If this message isn't allowed Mods feel free to delete it.
http://uglyart.net/uglys/creations.php?cmd=products&prod_id=196
TITLE: Discarded Bride
MEDIUM: Porcelain doll parts,wire,oil paint.
COSTUME:Her dress is made from a LEGALLY OBTAINED,CLEAN used sheet from a funeral home.So her wedding dress is basically made from a burial shroud.The stains you see on the front of the dress are cleaned blood stains.Again the sheet is cleaned and sanitized.Her sleeves are made from antique lace.Her bridal bouquet is a hand sculpted dead tarantula.
SIZE: 16 X 9 inches.
NOTES:She is what is called a half doll,Her upper body is solid and her lower half is made from wire,sort of like a hoop skirt which also gives her dress shaped.
Here in Louisiana dreams of death and marriage are intertwined.If you dream of somebody getting married,it means someone will die.If you dream someone is dead,it means someone will marry.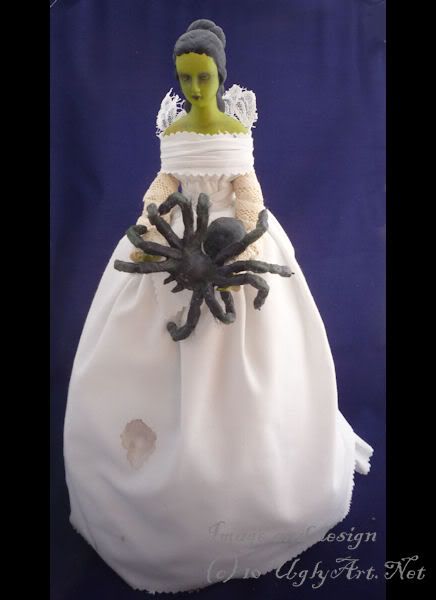 (
More pic's behind the cut
Collapse
)
Find more pic's and info on the doll on my website.
http://cgi.ebay.com/ws/eBayISAPI.dll?Vie
wItem&item=110480805043
SOLD
I have an auction, wish me luck!
Current Mood:

happy
She is up for sale on my etsy here
http://www.etsy.com/view_listing.php?listing_id=33907701
TITLE: A Old Blanket and a Withered Garden
MEDIUM:Paper clay,ceramic,clear glass eyes,cotton,string and a wooden base.The costume is made from one of my rotted childhood blankets which I allowed to decay in my garden where my pets who have passed on are buried.
SIZE: 16 X 12 inches.
STATUS: For sale 500.00
NOTE: Doll portrays the way we sometimes feel choked up and tied down to certain situations.The doll comes with it's base and is sitting on a latched,hinged trinket box that can be open and closed with the doll on top.The box also contains a secret message pasted on the inside only the buyer will see.There are also trinkets inside the hole in the dolls head.
Because of the eyes being clear glass depending on the way the light hits her,her eyes can sometimes look like they are following you.
Payment Plan is available:Doll is available for a payment plan.For around 80.00 each consecutive month,with a down payment of 50.00.A payment must be made EVERY month or you forfeit your item and are charged a 30.00 relisting fee.Also if you skip 3 months of payments you forfeit what you have paid on the time.I hate to be so strict about it but past experience have demanded it.E-mail me for info if you wish to purchase her on a payment plan.
Ugly Shyla
Ugly Art Dolls Myspace
My Execution Style Clothing Design Etsy Shop
Uglyshyla.com
Ugly Art Dolls
Follow me on Twitter
Add me on facebook
New Art Doll on Etsy:A Old Blanket and a Withered Garden I should also be listing her on my website soon.
http://uglyshyla.livejournal.com/686800.html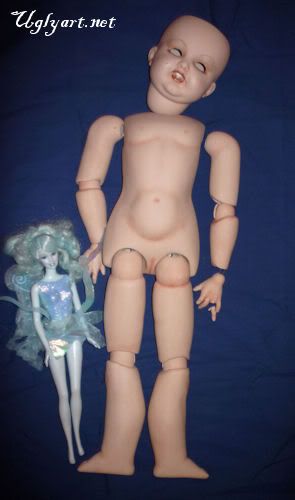 Another shot of her standing by a barbie so you can see how big she is.
(
photo
Collapse
)
http://www.uglyart.net
More info on the pain in the butt that is making one of these dolls and more info on the doll in general can be found on my LJ here